I got my hands on these great candid photos of Lyndsy leaving The Pearson Airport in Toronto Ontario, moving back home to L.A after wrapping the filming of Season 1 of Nikita! I have posted these without the giant tags hoping that if you do use them anywhere you will be respectful and keep the little corner tag on our photos along with crediting FonsecaNet. Enjoy!

Thats All For Now
Angel xo

I just got this photo of Lyndsy getting pampered at the spa back in 2004.
Sorry for the giant tag on it but I hope you enjoy it anyway! I may be able to get more of them soon, so be sure to keep checking back!
Thats All For Now
Angel xo

Hi all! Brittany here. Check out my recap of and thoughts on tonight's Nikita here. How do you think Alex is going to get out of the trouble she's in now?
Tonight's episode was…. OMG. I can't even get into it just yet. There was so much going on. So while my words can't describe how amazing it was, hopefully the captures will do it some justice.
Every week on Nikita, we watch Lyndsy Fonseca portray Nikita's Division mole, Alex. Lyndsy was kind enough to speak to TV Fanatic about all things Alex and Nikita. Every question that has lingered up to this date will be answered.

While you might think she's a tough girl based on her acting, she's actually incredibly sweet! In this interview, the 24-year-old talks to me about her character, the fate of Alex's relationships, Jaden, Percy, and so much more!

Talk to me about Alex today vs. Alex at the beginning of the season.

Oh my gosh. She's had quite a journey. I think the biggest difference is that in the beginning of the season I don't think she had a reason to live. She didn't care what happened to her. Now she's grown up and found things to fight for, and she has a passionate decision to make now. It's crazy what she's been through in one year. [laughs]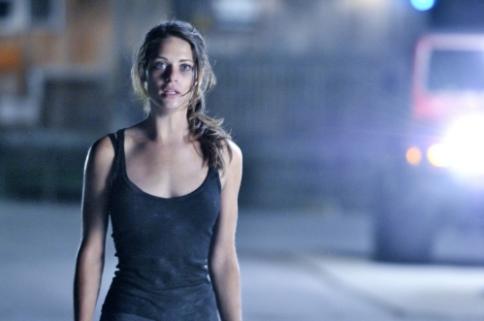 For more of this interview, head over to the Source

Poor Alex. Girl just can't catch a break :/
As you know I've been talking about having a new layout done for some time, while I waited I changed up the gallery layout but then I found a gorgeous designer to whip up something stunning for the third anniversary layout of the Lyndsy Fonseca Network. On May 22nd , LFN will be celebrating 3 years online. Within those three years we've had many ups and downs, a webmaster change or two and this year the chance to show Lyndsy what we've got. Lyndsy and her family have been incredibly supportive of LFN, and we can only thank Angel for her contribution for that.

Few of you know those, but Angel was Lyndsy's official webmaster a few years ago. She ran Lyndsy Fonseca Online, or Simply Lyndsy as it was both called. Earlier this year she contacted me and said she wanted to come aboard on FonsecaNet and help keep the Lyndsy love and news alive. With her help, we've done both and have had many wonderful opportunities with her since. While this layout celebrates a big year for us, it also celebrates a big year for Lyndsy. With Nikita being such a massive hit, and having come back in April, it's shown us just how much of a bad ass Lyndsy can be. It's season finale is right around the corner, and she also has two films coming out this year!

This layout is dedicated to Lyndsy, for being so amazing and sweet and supportive of the site. To Angel for all of her help, and to the fans for supporting us. We've had some hate lately and you guys have been nothing but loyal and supporting during this time. FonsecaNet would be nothing without it's visitors and fans. So from us to you, THANK YOU.